meanwhile in rome..
published Wednesday, October 05, 2005 by j |
email this post

---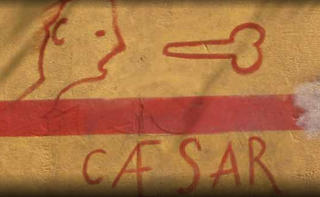 a very large penis is featured onscreen for an extended, unflinching period of time, as a plot point. rome rocks. i wonder how they cast the part. no pun intended.
favorite lines:
"large penis is always welcome."
"a little bloodlust suits you octavian. doesn't he look handsome? oh, i wish caesar were here. if he could see you now, he'd put you on his staff."
meanwhile, for the fraternal greeks, it appears that the real crime is not being gay, but being
effeminate
. (from
towleroad
)
sigh. that's always been the case hasn't it? 'if you act like us, we'll treat you like us': a rhetoric that has existed since the beginning of culture, an attitude of 'assimilate for acceptance.' i suppose it's a step - there was a time when a gay kid would be ostracised whether he was effeminate or not.