so i bought diskwarrior. it worked all night and made no progress in rescuing my drive, so i had no choice but to take it to tekserve. tekserve is a much better place to take your mac because they actually do all their repairs in house, rather than taking it to apple, who'll send it off to texas where they do god knows what to it, and you get it back with a blank hard drive.
tekserve does data recovery, and at flat rates - none of this 'oh it'll be 200-$2700' business i got in colorado. so for an 80gig drive, it's $600. and, i get to look at the recovered data and decide if it's what i was hoping to get back. if it's not, i don't have to pay anything (but i also don't get any of what they did recover back). so it's totally worth it to make them jump the hoops to rescue it - hopefully i'll get the specific things i'm hoping for back (please please please save me from reconstructing all those fireworks and photoshop files).
i asked them about the conspiracy, citing the 4 macs i know of falling prey to the same failure. all they said was 'dude,
every
drive will fail, it's just a matter of time. they're like tires, and you need a spare.' oh. great. rrrghrgh!
in any case, i'm without my computer for another week, upping the total computer-free time to one month. one month! i haven't been without a computer for one month since i went to the philippines with my mother when i was 7 years old.
and it's been rather liberating. i knew i was addicted, but i didn't quite realize just how much until i was forced to get away from it. suddenly things like dishes and laundry are getting done, my room is tidier, and i'm getting more sleep.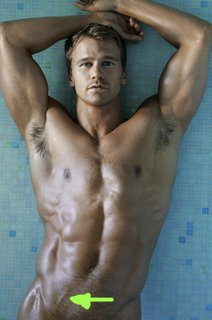 and i'm going to the gym a lot more. since the summer i've really let myself slip, and it's going to stop now. by the end of this month i want to be back where i was in july. and by july of this year i am fully commited to getting in the best shape of my life. i
will
have
the vein
(see left). you'll be able to cut off my head and i'll look like a 2xist box. and all my tight little shirts will be tight on the
top
and not on the bottom.